Daily Briefs about Today's Finest Artists

Informed Collector Recommends:

Don Biehn
TODAY:
Tuesday, February 21, 2012

Wintertime elegantly displayed with a subtle color palette, perfect light and special times of the season. Superb feeling of depth and expanse.
---
---
Focal Point: Don Biehn
Visit Don Biehn's Canvoo Focal Point on the web
Wintertime elegantly displayed with a subtle color palette, perfect light and special times of the season. Superb feeling of depth and expanse.

- Informed Collector


---
---
Other Web Pages with info about Don Biehn
Don Biehn's Main Web Presence
---
Biography
Don trained in design, illustration and fine art at Ringling School of Art in Sarasota, Florida.

During his career in commercial art, Don worked as an independent illustrator/designer in Milwaukee and San Francisco. He moved back to the Midwest and Saint Paul in the mid 1970's where he opened a graphic art studio which eventually grew to a staff of eighteen. Don Biehn Studio received multiple national and local awards from the graphics community for design, layout and illustration.

Through the years, Don used fine art as a release from the busy world of advertising art. Now, painting fulltime, Don's primary medium is oil, he also works in watercolor. He has studied in the plein air school, and is now devoted to painting outside in the sub zero weather as well as the mosquito laden humidity of July.

He is the recipient of these national awards in painting, Award of Excellence from Oil Painters of America.

In 2011, Don's work was named "best-of-the-best in impressionism" with the President's Choice Award – one of only 6 primary awards in a juried exhibition of 200 paintings – from the American Impressionist Society. The artist is a signature member of the Society, and has earned the distinction of signing his work with the "AIS" initials.


source: http://www.mnartists.org/artistHome.do?action=info&rid=22793


---
[Services:

FASO
: Want Your Art Career to Grow? Set up an Artist Website with FASO.

FineArtViews:
Straight talk about art marketing, inspiration - daily to your inbox.
---
New Artwork by FASO Members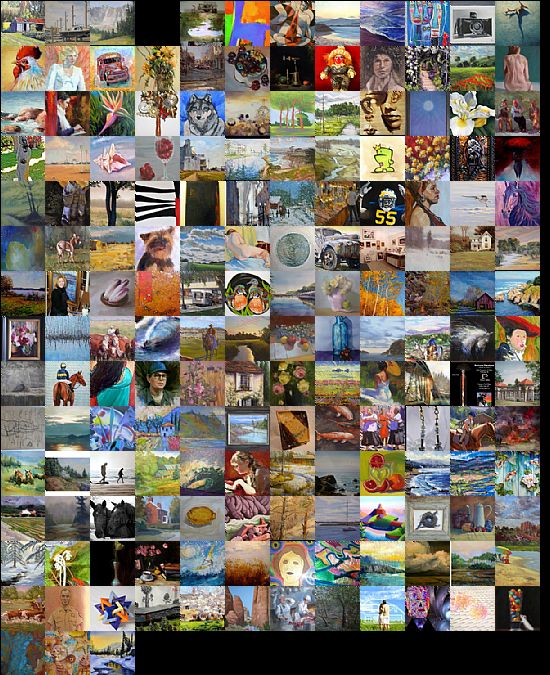 Your art could be here tomorrow, for free.
Click for Details
---
Daily Artworks from FASO Artist Bloggers:
If you want your blog posts listed in the FineArtViews or InformedCollector newsletters with the possibility of being republished to our 17,000+ subscribers, consider blogging with FASO Artist Websites.
---
--Highly Recommended--
Claim Your Share of Over $6,000 in Awards...
Call for Entries:
The BoldBrush Painting Contest


Every month this competition gets bigger and bolder - There's no better time than right now for you to throw your hat in the ring.
In addition to the cash, there's some other cool stuff to win, too - Like free website service, features in FineArtViews and Informed Collector, and other great promos...
Remember, you can't win if you don't enter and
FASO Gold Plan Members get one FREE entry each month.
Don't let this opportunity pass you by!
Entry deadline is

February 29th.
(February Judge: Fongwei Liu)
For more details and to enter:
Click Here Now
---

-- Highly Recommended --
Who Do Top Artists Like Mian Situ
Use for THEIR Web Sites?


FineArtStudioOnline, of course.


"Your software is amazing! Thank you.
I just put a new painting onto my web site and it was so easy. You have made the job a piece of cake. Good job."


- Mian Situ
YOU can have an easy and professional web site too

Get more details and your Free 90-day trial:
Visit our website:

www.FineArtStudioOnline.com

Click "Sign Up", Use Promo Code

FAV79B
FineArtStudioOnline
Easy Artist Websites (and Blogs) with Marketing Help
Want More Art Info Right Now?


Visit Clint's Blog for his latest unconventional thoughts about art, marketing, inspiration and fine living!

http://www.clintwatson.net/blog
---
ABOUT INFORMED COLLECTOR

DO WE SELL ART?
Informed Collector is a Free email newsletter. We do not sell art or have a commission structure with any of the artists discussed in this publication. If you wish to purchase art by any of the artists featured, we will assist you in contacting the artist or the artist's gallery representatives.
DO YOU OWN A GALLERY? WANT YOUR EXHIBIT FEATURED HERE?
If you're a gallery and would like us to mention an upcoming exhibit or to consider a particular artist, please email us. We don't guarantee inclusion but we are all about sharing with the art industry so would like to know about it.
---
Republish Informed Collector's Insightful Content on
your own website, blog or enewsletter free of charge!
You may republish your favorite articles from Informed Collector without charge. Use of this material without adhering to ALL of the following instructions is a violation of copyright laws:
Republishing our articles is simple. You must include attribution of the author(s) and the following short paragraphs (everything between the dashed lines), in the same font size and visibility as the article:
----------------------------------------------
This article appears courtesy of InformedCollector.com by Clint Watson, a free email newsletter about art, marketing, inspiration and fine living for artists, collectors and galleries (and anyone else who loves art) .

-----------------------------------------------
---
Suggest Informed Collector to a Friend:
If you would like to suggest Informed Collector to a friend, please point them to:
Tell them to click the "Sign Up" link.
---
Have a Question for Clint?
Informed Collector welcomes your questions, thoughts and comments. Send them to:
---
The Fine Print:
This copyrighted material is published here by permission of its sole author, Clinton B. Watson, except as noted otherwise.
As law-abiding citizens who wish to comply with our republic's anti-spam laws (unlike actual spammers), we offer our postal address below:
Thanks for your friendship.
If you liked today's newsletter, please forward it to a friend, if you didn't like it, feel free to forward it to your enemies ;-)

Essays by guest authors reflect the opinions of the authors only and do not necessarily reflect the opinions of Clinton B. Watson or InformedCollector.

The inclusion of an ad in InformedCollector does not constitute an explicit endorsement. It means that, as far as we know, the product is not a rip-off. When we really endorse something, we'll tell you explicitly in an editorial piece. Otherwise, view these ads the way you would commercials on TV or display ads in the back of your favorite magazine. Check them out. Make a decision. If you don't like it, ask for a refund.
Copyright 2007-2012 BoldBrush Technology LLC Licensed To BoldBrush, Inc. - ALL RIGHTS RESERVED.
---
TO UNSUBSCRIBE, CHANGE YOUR EMAIL ADDRESS, or Change any other preferences regarding your subscription to Informed Collector, visit the following link:
Unsubscribe or Change Your Informed Collector Preferences:
[UNSUBSCRIBE]